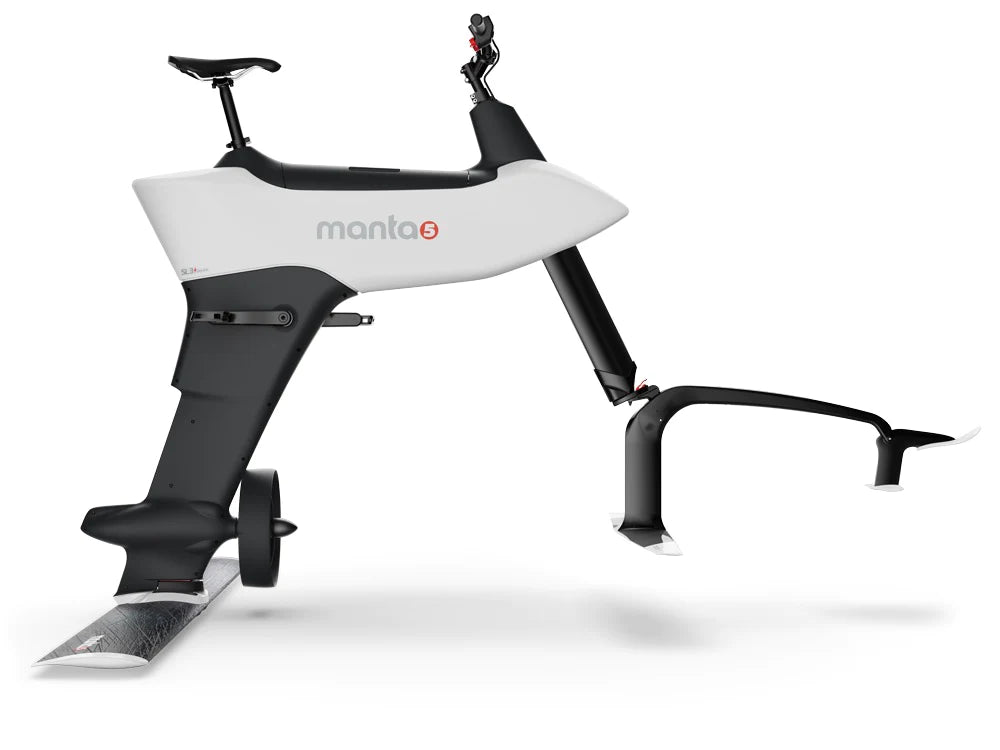 Manta5 Hydrofoiler SL3
*PRE-ORDER*
Models 
Orca White Chassis
Light Hydropack 600 Battery
'Learner' Fixed Cord 2.0 (FC2) Rear Foil
All riders
Lightweight battery
Orca White Chassis
Long range Hydropack 1000 Battery
'Learner' Fixed Cord 2.0 (FC2) Rear Foil
Bestseller
Long range
Sharkskin Chassis
Long range Hydropack 1000 Battery
Both Fixed Cord 2.0 (FC2) Rear Foil + 'Super Lightweight' High efficiency (HE2)Rear Foil
Confident starters to expert
Longest range
Key Features
GAME CHANGING EASE OF USE - Become a confident rider in minutes
Manta5 built in a range of newly patented easy launch tech that means new riders can now become confident riders in a matter of minutes, not hours.
40 minutes – The average learning curve from a self selected group of 35 first time test riders.


PATENTED EASY LAUNCH TECHNOLOGY™
If you can ride a bike and swim, you can ride a Hydrofoiler.


Easy Mount Chassis
Composite monocoque chassis with new floatation and improved mounting ergonomics, combined with the Fixed Chord (FC2) foil keeps the bike floating upright when stationary.
 
Throttle Only Launch
The easiest launch ever. Launch and coast without the need to pedal. With a single finger on the throttle, you're in the water and good to go.
 
Pitch Perfect Tiller
Drastically reduces the chance of stalling mid launch. The new tiller automatically locks at the perfect angle for take off, and automatically releases once up and foiling.


A THROTTLE THAT THRILLS - Introducing the Ride Controller & Throttle
A finger on the trigger is all it takes to launch, accelerate and maintain flight at top speeds. A whole new thrilling way to experience foil biking.
Safety Features
A WHOLE NEW LEVEL OF CONFIDENCE
The SL3 is tougher and more reliable in the hardest of marine environments.


Hydropack batteries
Dual waterproof layers of protection with a transparent outer housing (pictured above).


Ride display
Track vital ride metrics like battery life.


Propeller shroud
An added layer of protection around the propeller.


Tilt Sensors
Instantly cuts power to the propeller as soon as a fall is detected.


Easy Launch Technology
Easy to mount and incredibly stable once up and foiling.
EASY TRANSPORT - Modular design
New toolless quick connection points for easy assembly. More modular for compact transport and handling.

Shipping
Breaking down into five smaller assemblies the accessibility to standard freight carriers is now possible, increasing the options for speedy delivery.
 
In-vehicle
Fits in any vehicle with the seats down or in the boot space of larger SUV vehicles.


To the water
Carry the modules by hand and assemble waterside using toolless quick connection points.


Storage
Reduced storage requirements. Suitable for yachts and other vessels where space saving is crucial.
Tech Specs
Ride duration - The longest ride duration of any electric foiling product on the market.
Speed
Speeds vary based on ride conditions, rider weight & ability.
Coming soon: Speed foil & propeller targeting increases to top end speed
Top-end speed: 20 kph | 12 mph
Cruising speed: 11 kph | 7 mph
Minimum speed: 6 kph | 4 mph


Chop and swell capabilities
Handles rolling swell and choppy conditions. The SL3 'slices' through tougher conditions than conventional SUPs, kayaks and most personal watercraft.


Hire market durability
New hardwearing monocoque chassis, a new robust drivetrain and fully sealed gearboxes are designed with commercial hire operators in mind.


Transport
The Hydrofoiler SL3 features quick connection parts that breaks the bike into 5 sub-assemblies. Transport in car and carry to the water by hand.


Maintenance
Ultra low maintenance, no high wear drive components like on most bicycles.
Simple hose wash down after salt water riding. 
Access for servicing/replacing modules requires less tools​. Further modularity built in to sub-assemblies for affordable repair – when a fault occurs the replacement is of the affected module, not the whole assembly​.


Battery charge time
Hydropack 1000 Battery: 5 hours
Hydropack 600 Battery: 3 hours
Coming soon: Fast charger
 
Assembled dimensions
1.4 m High x 2 m Wide x 2.2 m Long  |  4.5 ft High, 6.5 ft Wide, 7.2 ft Long


Parts weight
Chassis: 10.1 kg | 22 lbs
Drive Train: 13.9 kg | 30 lbs
FC2 Rear foil: 5.8 kg | 12.5 lbs
HE2 Carbon rear foil: 2.9 kg | 6 lbs
Hydropack 1000 Battery: 8.6 kg | 19 lbs
Hydropack 600 Battery: 7.1 kg | 15.5 lbs
Tiller and front foil: 1.9 kg | 4 lbs
Added modularity to the SL3 has reduced the overall carry weight with the heaviest module being 13.9kg (30pounds)
Mechanical Specs
Rear Foil: HE2 Carbon
Super lightweight and high strength.
Connection: Custom Tapered Shoe
Aspect ratio: High (10)
Wingspan: 6'6" (2 m)
Front Foil: HE2 Carbon
Super lightweight and high strength.
Wingspan: 3'11" (1.2 m)
Rear Foil: FC2 Fixed Chord
Built for learners. Durable, low-cost entry option for new riders and hire operators.
Connection: Custom Tapered Shoe
Aspect ratio: High (10)
Wingspan: 6'6" (2 m)
Chassis
Composite frame with integrated buoyancy

Toolless Detachable Drive unit for easy transport and storage
Drivetrain
Sealed drive unit: 3 purpose-built Manta5 Gearboxes IPX8 rated
Gearbox: Custom planetary 
Driveshaft: aluminium
Propeller shaft: stainless steel
Propeller: carbon fibre reinforced nylon
Electronic Specs
E-System
Motor: Custom in-line motor, sealed to IP67
Gearbox:

 

Custom planetary gearbox with torque, speed and temperature control, with the ability to assist pedal power or operate individually 
Power: 2500 watts
Control: Wired Manta5 Remote
Hydropack Batteries
Chemistry: Lithium-ion
Voltage: 52V (Nominal)
Hydropack 1000: 1000 Wh
Hydropack 600: 600 Wh
Peak Discharge: 3000W
Housing: Dual layer marine grade housing. Clear outer layer for easy inspection. IP67 rated. Integrated Battery Management System

 

with constant 'pulse' monitoring system.

Charger: 52V 110/240V AC input
Bluetooth Ride Controller
Firmware updates via Bluetooth

Integrated LCD display: Live Battery Level, Assist Level, Throttle position, System Warnings, Rider Power Display, Rider Cadence Display

Increase/decrease electrical pedal assist (10 Assist power levels)

Torque and cadence-controlled motor power

Throttle Override

Different Ride modes: Pedal Assist with optional throttle override (Default), Boost (Full throttle, Max Speed)


Please note, variability in the manufacturing process and suppliers may result in minor spec changes.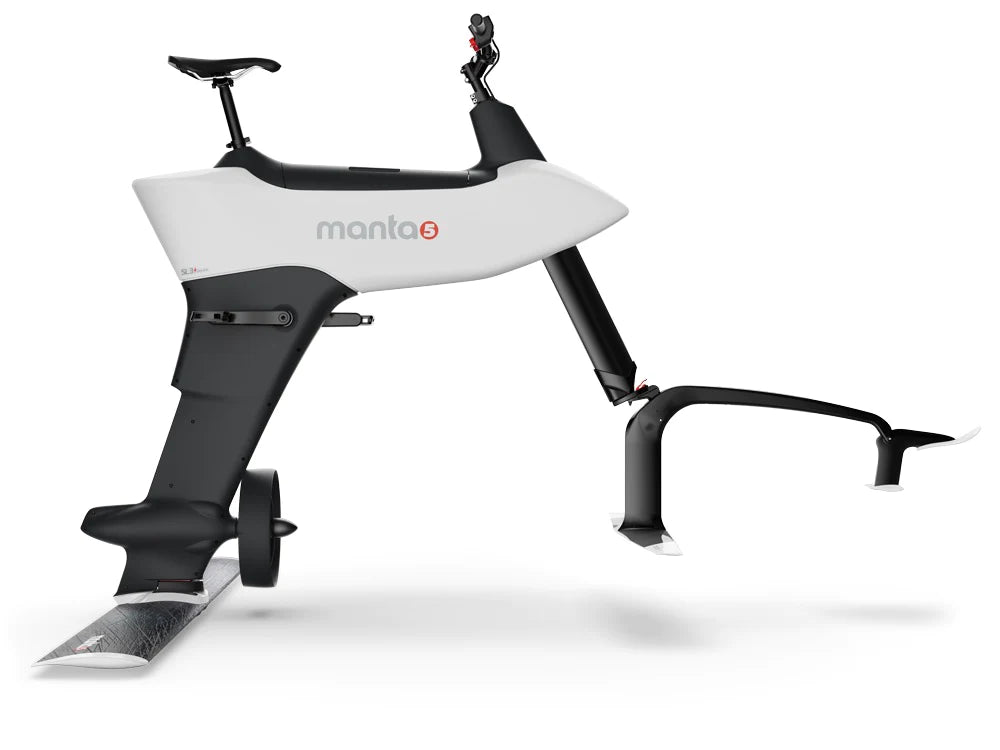 Manta5 Hydrofoiler SL3 in Action
Compare
Product specification
Give your customers useful information about your products and showcase differences between them.
Frequently Asked Questions
How long will it take to get my order?

We process all orders within 2 business days. You will get a shipping label or a local delivery estimation within that time frame. From there it will depend on your shipping method selected.
Can I return the Manta5 Hydrofoiler SL3?
We know these products can be complex, we are available via phone, email and live chat 24/7.
Call (954) 247-1321
Talk To A Luxury Surf Pro
Manta5 Hydrofoiler SL3
Learn More
Manta5 Blog
The Difference Between an eFoil and a Jet Board
An eFoil and a jet board are two different types of personal watercraft that have gained popularity in recent years. Both offer a unique and thrilling experience on the water, but they have some k...
Testimonials
Happy Clients
New Favorite Sporting Activity
My best buddy and I had such a great time in our first lesson together with Mark at Luxury Surf. We both stood up and learned all the basics. The headphones made the communications easy so we could focus on improving our skills at riding. I bought my Efoil shortly afterwards and Mark helped there too. Now I have a new favorite sporting activity that is a great workout!
Mark is amazing!
Super professional, explains every move, very nice and friendly!
On my first lesson with him I was able to Foilboard right away, fell in love with it and doing my lessons every week now. If you love your life, if you want new experience- don't think twice and call Luxury Surf to set up your appointment!
Super Patient & Supportive
Luxury Surf was hands down my favorite because the instructor Mark! What a great teacher! The dude is super patient and really supportive. After a few positioning/posture adjustments I was able to ride no problem! we went at my pace didn't feel rushed or pressured at all!