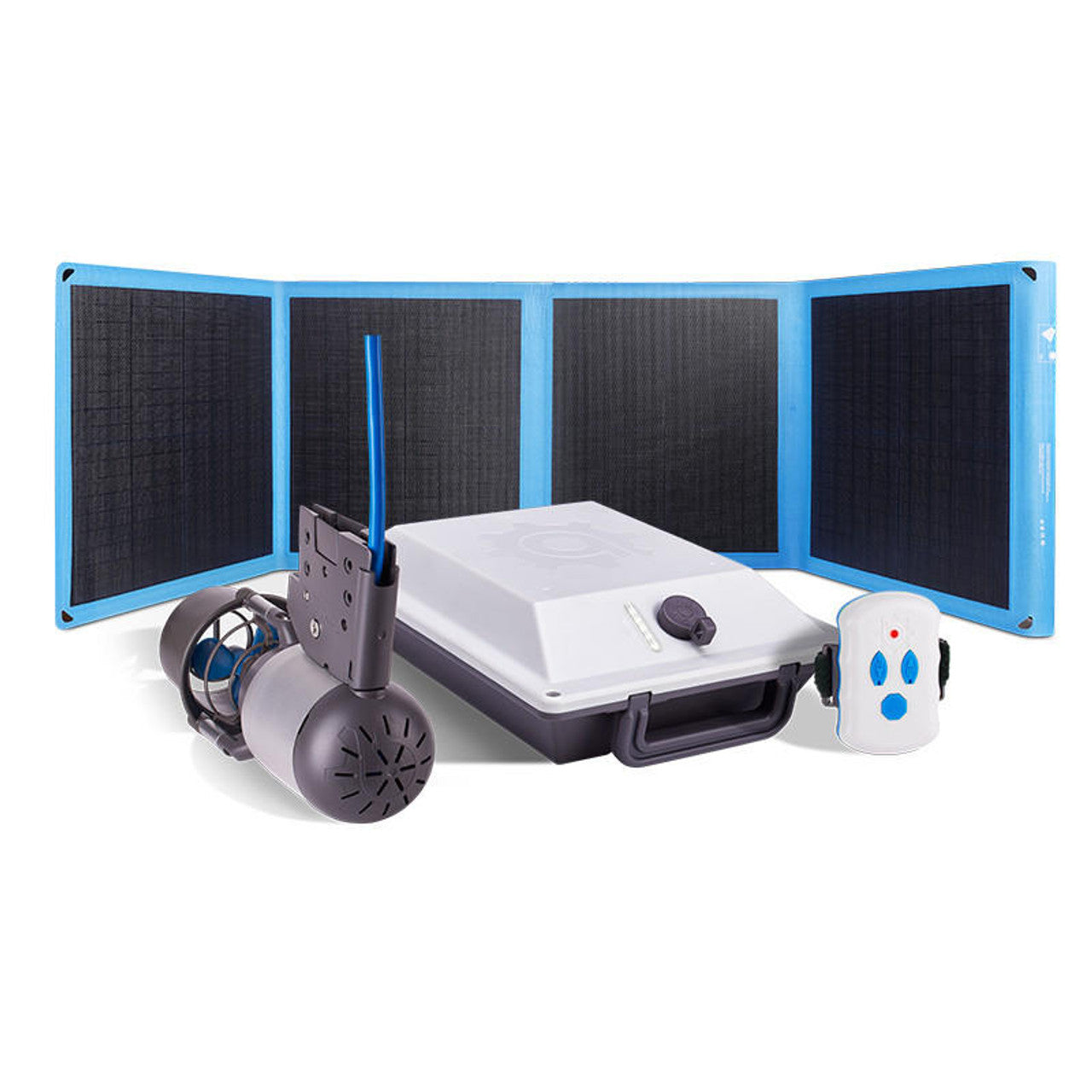 K-1 Outboard Kit with Solar (K-1/PP-378/SUN80 bundle)
Disclaimer: Due to high volume of anticipated orders, we expect to ship this items within 7-10 days of purchase.
The Bixpy K-1 Outboard Kit DOES NOT include a mounting adapter. You will need to purchase a mounting adapter separately based on the watercraft you are trying to motorize. To purchase a mounting adapter, go to bixpy.com/mounting-adapters
Not sure which adapter best fits your watercraft? Easily find the right Bixpy adapter for your watercraft on www.bixpy.info
The Bixpy K-1 Outboard Kit is Bixpy's third major iteration of its, now famous, jet propulsion system that has motorized thousands of kayaks, paddle boards, dinghies, float-tubes and all kinds of personal water craft over the last 5 years. 
The K-1 Outboard Kit combines the awesome power of the Bixpy K-1 Motor, with 33lb of thrust, and the finely tuned, waterproof, wireless PP-378 Outboard Battery (Version 4) to power virtually any personal watercraft on the market.
The K-1 Motor is roughly 20% shorter in length than its predecessor, the J-2 Motor, yet offers the same massive output the J-2 motors provided in a quieter, more sleek, and more rugged aluminum housing.
Whether you want to motorize your kayak, canoe, paddle board, float tube, dinghy, inflatable pack-raft, or any number of other small watercraft, the Bixpy Outboard Kit is your answer.
There is nothing else on the market made specifically to give water enthusiasts an ultra-light and super adaptable package to power their boats.
With the SUN80 Solar Panel you can now charge your Bixpy PP-378 Outboard Battery on the move. With 80 watts of output from mono-crystalline cells, this solar panel will charge your Bixpy PP-378 Battery or Bixpy PP-333 Battery in about 6 to 10 hours.
*Note: THIS SOLAR PANEL WILL NOT CHARGE THE BATTERY WHILE THE MOTOR IS RUNNING. DO NOT SIT OR PUT WEIGHT DIRECTLY ON SOLAR PANELS.
The Bixpy Outboard Kit enables you to stay out longer, explore new waters, fish more, troll for hours or just get home effortlessly at the end of a long tiring day on the water, or when the weather turns on you and you need an extra push to get you back.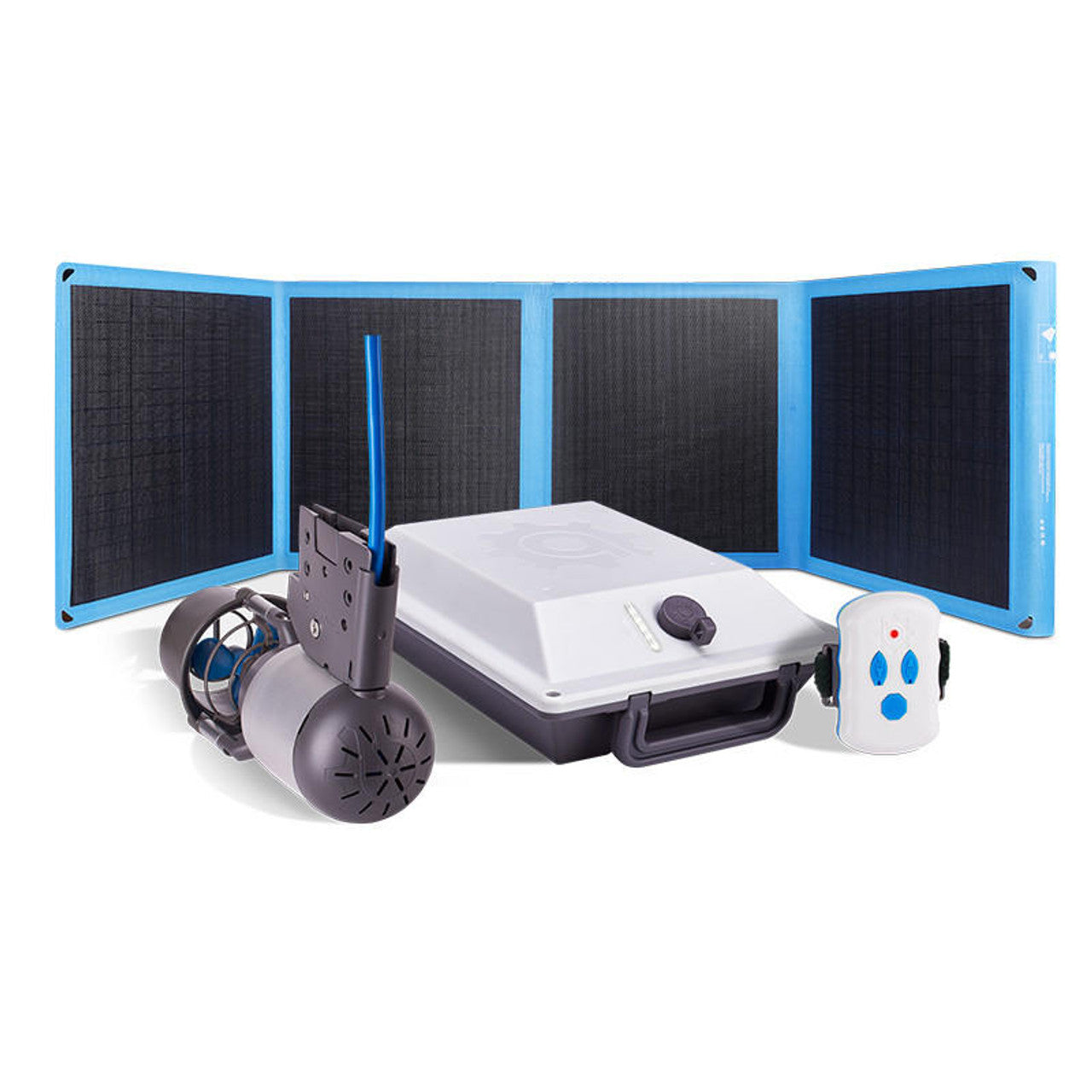 K-1 Outboard Kit with Solar (K-1/PP-378/SUN80 bundle) in Action
Compare
Product specification
Give your customers useful information about your products and showcase differences between them.
Frequently Asked Questions
How long will it take to get my order?

We process all orders within 2 business days. You will get a shipping label or a local delivery estimation within that time frame. From there it will depend on your shipping method selected.
Can I return the K-1 Outboard Kit with Solar (K-1/PP-378/SUN80 bundle)?
We know these products can be complex, we are available via phone, email and live chat 24/7.
Call (954) 247-1321
Talk To A Luxury Surf Pro
K-1 Outboard Kit with Solar (K-1/PP-378/SUN80 bundle)
Learn More
Bixpy Blog
The Difference Between an eFoil and a Jet Board
An eFoil and a jet board are two different types of personal watercraft that have gained popularity in recent years. Both offer a unique and thrilling experience on the water, but they have some k...
Testimonials
Happy Clients
New Favorite Sporting Activity
My best buddy and I had such a great time in our first lesson together with Mark at Luxury Surf. We both stood up and learned all the basics. The headphones made the communications easy so we could focus on improving our skills at riding. I bought my Efoil shortly afterwards and Mark helped there too. Now I have a new favorite sporting activity that is a great workout!
Mark is amazing!
Super professional, explains every move, very nice and friendly!
On my first lesson with him I was able to Foilboard right away, fell in love with it and doing my lessons every week now. If you love your life, if you want new experience- don't think twice and call Luxury Surf to set up your appointment!
Super Patient & Supportive
Luxury Surf was hands down my favorite because the instructor Mark! What a great teacher! The dude is super patient and really supportive. After a few positioning/posture adjustments I was able to ride no problem! we went at my pace didn't feel rushed or pressured at all!